UC Riverside's class of 2022 will celebrate the milestone of receiving their bachelor's, master's, and doctoral degrees in person and on campus.
In early June, the campus will finally welcome graduating Highlanders to the commencement stage, where their friends, families, and fans can cheer them on as they cross the stage in their statement caps, crisp gowns, and commemorative sashes/stoles.
Noteworthy details:
Ceremonies will be held on UCR's Pierce Lawn (near the Bell Tower) or Student Recreation Center (or SRC)
Traditions like African Student Program's Black Grad, Chicano Student Program's Raza Grad, and University Honors' Cording Ceremony will also resume in person
The commencement website has been updated with 2022's schedule of events, application deadlines, and volunteer opportunities
Excitement for the in-person ceremonies is filling the campus and it's shared by UCR's leadership.
"We are so excited that our graduates and their family members will be able to participate in an in-person commencement celebration," said Brian Haynes, vice chancellor for student affairs. 
With the COVID-19 pandemic halting the campus's in-person instruction and in-person events at the beginning of March 2020, Highlanders who graduated that summer did so strictly online. These disappointing, yet necessary, changes were made to protect the community's health during extremely uncertain and risky times.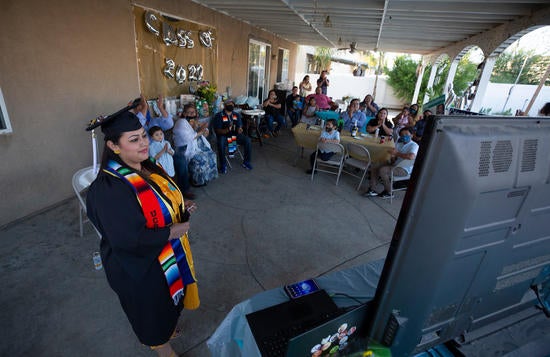 The following year, with the much welcome improvement in overall COVID-19 cases around the nation, 2021's graduating class nudged its way back into a quasi-traditional celebration with a hybrid solution that included virtual ceremonies, limited live-streamed on-campus graduate recognition, and name-reading events. Graduates from the class of 2020 were invited to join, as well. 
With COVID-19 cases continuing to drop and the Omicron peak behind us, we're looking forward to the upcoming springtime celebrations and beyond. Congratulations, future Highlander graduates! We'll see you at UCR's 68th Commencement.