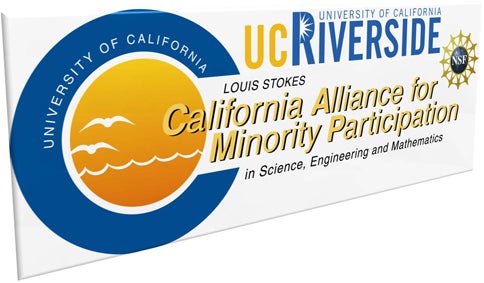 CAMP is currently operated by the College of Natural and Agricultural Sciences. 
---
The Louis Stokes California Alliance for Minority Participation (CAMP) is designed for students in the Science, Technology, Engineering, and Mathematics (STEM) fields pursuing graduate (Master/Doctoral) degrees. Our motto is that scientists are best developed by other scientists serving as mentors who exhibit and expect scholarly excellence.
CAMP-UCR was established at the University of California, Riverside in 1994 and is funded by the National Science Foundation (NSF) and the University of California Office of the President (UCOP).
CAMP-UCR is a program that works to encourage NSF-declared underrepresented students in the STEM fields to successfully complete undergraduate science degrees and further pursue their studies at the graduate and professional level. The National Science Foundation considers an underrepresented minority in STEM as students with Black/African-American, Hispanic/Latino, Native American, and Non-Filipino-Pacific Islander ethnic backgrounds reported at UCR at the time of admission.
 
Detailed Description
One of 42 LSAMP alliances, and founded in 1991 by the Honorable Louis Stokes, the first Black congressman of Ohio, CAMP is dedicated to UC undergraduate achievement in science, technology, engineering and mathematics. It is a federal and statewide initiative that aims to support and retain underrepresented undergraduates to achieve their degrees in the STEM fields.
CAMP is supported in part through a cooperative agreement between the NSF as a funding source for student support, the Regents Diversity Initiative intended to support CAMP infrastructure, the Deans office from the College of Natural and Agricultural Sciences, and the Office of Undergraduate Education.
CAMP exists at nine of the University of California campuses and at various California State Universities, California Community Colleges, independent colleges and universities, and national laboratories that together work to achieve a goal of doubling the numbers of minority students receiving a Bachelor of Science or a Bachelor of Arts degree in the many science disciplines.
The CAMP program epitomizes the uncommon commitment to undergraduate education at the University of California. Integrating research and undergraduate education, CAMP creates a cohesive set of experiences that fully prepares undergraduates for graduate education and influences career choices. Dedicated to UC undergraduate achievement in STEM. Faculty-mentored research experience is the foundation, providing the preparation and impetus for graduate studies. Consequently, CAMP students acquire a greater understanding of the importance of their undergraduate education,
Goals and Aims
• To increase the quantity and quality of underrepresented students receiving Baccalaureate, Master and Doctoral degrees in STEM.
• To support sustained and comprehensive approaches that facilitate achievement of the long-term goal of increasing the number of students who earn doctorates in STEM.
• Foster undergraduate research as a stepping stone toward higher education
• Develop written and oral communication skills
 
CAMP at UC Riverside
CAMP students will benefit from on-going academic support activities throughout their undergraduate education including research experiences, professional development and tutoring support services. Our mission is to develop and implement strategies for recruiting, retaining, educating and graduating students in STEM in order to formally connect a significant number of newly minted LSAMP students to doctoral degree programs.
CAMP provides research opportunities, faculty and peer mentoring, pre-academic advising, networking opportunities, and seminars given by distinguished faculty members and UCR alumni. CAMP students are also eligible for summer and academic year research opportunities with UCR faculty. 
CAMP provides opportunities for students to participate in a variety of national, statewide, regional and local symposia. Many of our students have been selected to present and/or participate at NCUR, SCCUR, SACNAS, CAMP statewide, SUR, Summer RISE, and Summer Research Symposia.
Our students also receive a wide variety of support as they apply for graduate school, including awards for Graduate School Applications and travel. Graduate Record Examination (GRE) Workshops, quarterly workshops, and presentations are held to facilitate the application process. These workshops are offered in the summer and during the academic year. Finally, CAMP students benefit from additional support services such as textbook and netbook lending in order to reduce financial stress and increase their success in their coursework.
 
Benefits
• Research opportunities and financial support
• Faculty mentoring/peer mentoring/peer counseling
• Academic advising
• Presentation skills development
• Laboratory training
• Career counseling and job fairs
• Research Experience for Undergraduates (REU) access
• Graduate school admission and preparation
• Study locales
• Professional development workshops
• Travel to professional conferences and symposia
• Outreach
• Seminars given by distinguished faculty members and UCR alumni
• Access to CAMP-UCR Student Center
• Social activities
• Networking opportunities
 
Outcomes
• Students have the opportunity to conduct original research
• Expanded research opportunities
• Sense of community and belonging
• Students present the results of their research at system-wide and national scientific conferences.
• Collaboration with other initiatives, inter/intra-collegiate
• Increase of B.S. completion rates
• Increased graduate school entry
• Increased presence nationally