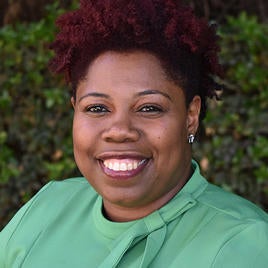 Jennifer Lynn Brown
Vice Provost and Dean of Undergraduate Education
Professor in the School of Public Policy

Jennifer earned her Ph.D. in Horticulture with an emphasis in Marketing and Consumer Behavior in 2004 from Michigan State University and received an M.S. degree in Natural Resources and Environmental Sciences (NRES) with an emphasis in agribusiness and survey methodology in 2001 from the University of Illinois at Urbana-Champaign (UIUC). Her baccalaureate degree is in Ornamental Horticulture from UIUC.
Contact Information
Undergraduate Education
(951) 827-7750
Jennifer Brown is Vice Provost and Dean for Undergraduate Education and a Professor in the School of Public Policy at the University of California, Riverside (UCR). Jennifer previously served as Vice Provost and Dean of the Graduate School at Oregon State University (OSU) from 2016-2018, and Associate Dean of the Graduate School at OSU from 2015-2016. She was also a Professor in the Horticulture department. Prior to her administrative appointments at OSU, Jennifer was a faculty member with a joint appointment in the departments of Horticulture and Landscape Architecture & Agricultural Economics at Purdue University from 2004-2015. She was also the inaugural Director of Distance Education from 2014-2015 where she created the concept of AgOnline. While at Purdue, Jennifer created an integrated Extension, teaching and research program that answered marketing questions related to starting a business, trends in entrepreneurship, forms of ownership, consumer behavior analysis and business planning procedures. Her expertise and knowledge in the specialty crop industry have been recognized nationally as she was appointed to the National Agriculture Statistics Service national advisory committee. Jennifer's applied research program in sustainability has been groundbreaking in the horticulture marketing field and has translated to relevant information and publications for small business owners, policy makers, practitioners, and specialty crop industry colleagues. Jennifer's programs have introduced specialty crop growers to new markets and elevated the importance of horticulture crops to governmental entities. Her programs on consumer behavior and market trends are heavily supported by peer-reviewed, applied research.
Jennifer is passionate about student success and creating an environment where all students have the foundation to succeed. She works to enhance success for UCR students alongside her colleagues in the Undergraduate Education (UE) office. Jennifer collaborates with campus stakeholders including dean, faculty and students to advance the University's goals of excellence and increased national reputation in undergraduate education, student retention, and success.